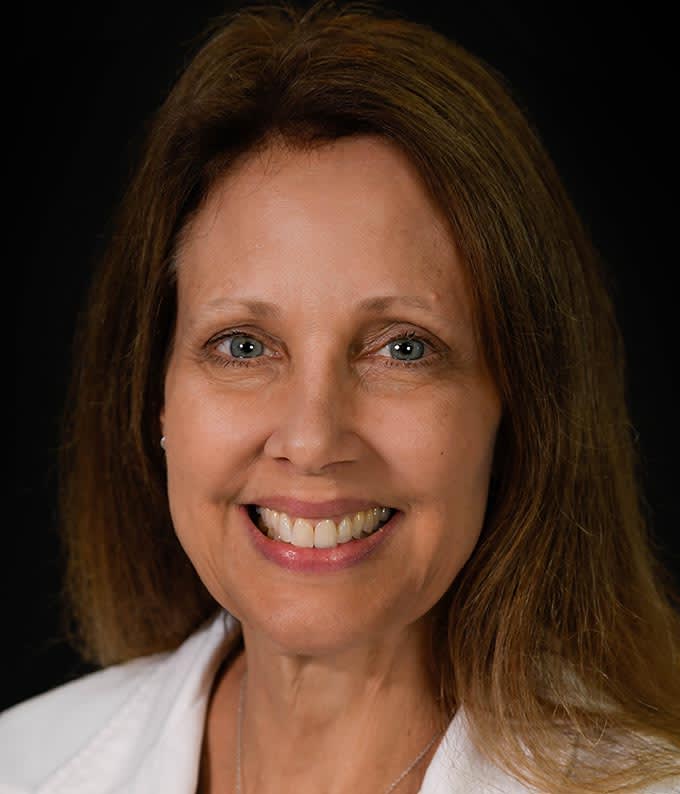 Dr. Linda Messinger
DVM, Diplomate ACVD
Dr. Messinger has been board certified by the American College of Veterinary Dermatology (ACVD) since 1993. She is one of approximately 300 board-certified dermatologists in North America. One of the major functions of the ACVD is to maintain the highest standards of post-graduate training in veterinary dermatology and allergy. Board certification by the ACVD denotes that the individual is a board-certified specialist in veterinary dermatology.
Dr. Messinger received both her Bachelor of Science and Doctor of Veterinary Medicine (DVM) degrees from Cornell University. During her undergraduate training, Dr. Messinger was elected to the Phi Kappa Phi Honor Society.
After completing veterinary school Dr. Messinger completed a one-year internship in small animal medicine, surgery, dermatology, and ophthalmology at the prestigious and world-renowned Animal Medical Center in New York City. Thereafter, she completed a dermatology residency at the University of Florida and then remained on staff there for one year.
The University of Florida has one of the largest veterinary dermatology residency programs in the world. While at the University of Florida, Dr. Messinger taught hundreds of veterinary students as well as veterinarians about the specialty of veterinary dermatology. She was in private specialty practice in the Orlando area before moving to Colorado in 1995 to establish the Department of Dermatology at VRCC.
Dr. Messinger has delivered lectures on veterinary dermatology to a variety of professional and lay groups, both at the international, national, and local levels. In addition, Dr. Messinger has authored many scientific articles, review articles, and book chapters.
To advance our understanding of skin diseases in animals (so as to help our patients), Dr. Messinger has been involved in a variety of research projects and clinical trials related to veterinary dermatology. Dr. Messinger is also a consultant in dermatology for a large veterinary corporation. She is a member of the ACVD, American Academy of Veterinary Dermatology, American Veterinary Medical Association, Colorado Veterinary Medical Association, and the Cornell Feline Health Center.
Dr. Messinger is currently chairperson of the American College of Veterinary Dermatology Program Committee. She was also granted the prestigious honor of training residents in veterinary dermatology and allergy, under the guidelines of the American College of Veterinary Dermatology.
Dr. Messinger specializes in the diagnosis and treatment of all skin, coat, ear, and nail diseases in animals, including bacterial, viral, fungal, and parasitic infections, allergies, immune-mediated skin diseases, endocrine (hormonal) disorders, inherited skin diseases, idiopathic and certain skin cancers, to name a few. She is dedicated to working closely with you and your family veterinarian to provide the most progressive and comprehensive services and care for your special family member(s).
Dr. Messinger grew up on Long Island, in South Huntington, New York. The medical field has always fascinated her. Her love for animals and veterinary medicine began at the age of 7 when her family adopted a gray and white kitten and when she visited her grandparent's farm in Germany.
Currently, Dr. Messinger's pet family includes yellow Labrador Retriever (Rigby), a Labrador Retriever mix (Fuzzy), a mixed breed puppy (Willie), and her cats (Daisy, Bella, Kitty Sue, Sweetie, Beekman, Amber, Seth, and Milo), one Guinea pigs (Pumpkin), two goldfish (Prince and Pablo Sandoval), one beta fish (Tom) and pond snails. Bella was found meowing on the side of a country road while on a bike trip in Italy. Fuzzy and Willie both have allergies to airborne allergens. Dr. Messinger enjoys aerobics (which she has taught), running, cycling, gardening, and family life. She is semi-fluent in the German language.